3 Great Key West Dive Sites
3 Great Key West Dive Sites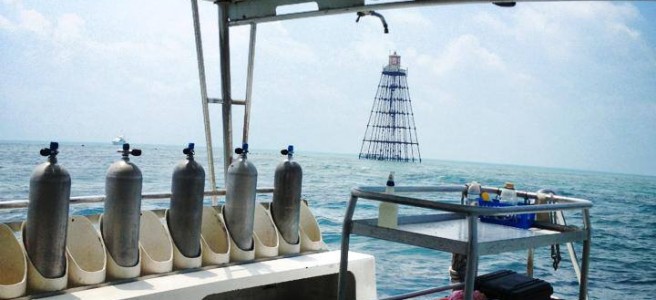 Key West is the absolute best overall dive site in the Continental United States.
Advanced divers already know what the Florida Keys and Key West have to offer. Beginners will be amazed to come face-to-face with incredible seascapes and marine life their very first dive.
The rich variety and sheer number of Key West scuba diving sites is enough to keep a diver busy with new adventures for years. Just to get an idea of what the island has to offer, let's take a look at three local favorites.
Western Sambo Reef Reserve
The Sambo Reefs are a large tract of coral formations and sandy bottom flats lying 4 miles to the south of Boca Chica Key and 5 miles east of Key West. The entire Sambo Reef system is protected within the boundaries of the Florida Keys National Marine Sanctuary. The reefs offer a wide variety of depth and bottom structure, support a very rich marine ecosystem, and are one of the best dive and snorkeling sites in Key West.
The Sambo complex is divided into three principle reef regions – Eastern, Middle, and Western – separated by large sandy areas. Western Sambo is 1 of 2 designated Ecological Reserves within the Florida Keys National Marine Sanctuary. Large yellow boundary buoys mark a rectangle 9 square nautical miles in size stretching south from the sandy beaches of Boca Chica Naval Air Station.
Salt ponds, near-shore hard bottom, inshore patch reefs, spur-and-groove formations (fingers of rock and coral separated by small canyons or gullies), offshore patch reefs, bank reefs, and channels comprise the greatest habitat diversity in the Lower Keys.
An incredible variety of marine life flourishes in the protection offered by Western Sambo. Many large fish, big Brain Corals, and one of the Keys' last living stands of Elkhorn Coral can be seen there. In a channel on the eastern side of the reserve, the 55-foot tugboat Aquanaut awaits exploration in 75 feet of water.
Sand Key Light
The Sand Key Light sits 6.5 miles southwest of Key West in an area that was formerly a small island. It supported trees and even a light keeper's house. The original 60-foot brick light tower built in 1927 was toppled by the Great Havana Hurricane in 1846. Later hurricanes essentially erased the island, leaving a shallow sand bar and sand bottom areas along with typical spur and groove coral reef formations.
Sand Key proper offers depths from 3 to 30 feet. The Oceanside of the Key slopes gradually down to about 65 feet in most places. The variety of depths, excellent snorkeling and diving, dry sand bar feature, and marine life like Barracuda, Eagle Rays, Nurse Sharks, and Sea Turtles make Sand Key one of the most popular Key West scuba diving sites.
The Cayman Salvage Master
Seven miles southeast of Key West in 93 feet of water at hull bottom, the Cayman Salvage Master, locally known as the Cayman Salvager, sits upright and mostly intact. It is a 187-foot former U.S. Army mine layer and cable ship built in 1937, sunk as an artificial reef in 1985, and now considered one of the most dramatic shipwrecks in the Keys.
In addition to its original missions, the Salvage Master served as a U.S. Coast Guard buoy tender, a Panamanian-registered freighter, and as part of the Mariel boatlift. This was the rumored CIA operation in which thousands of Cubans were illegally smuggled from Mariel Harbor in Cuba into the U.S. between April 15 and October 31, 1980.
The ship was finally caught and seized by U.S. authorities with 1,400 Cuban refugees on board. Towed to Key West, the ship mysteriously sank at the dock a few days later.
Refloated for the purpose of being scuttled in 300 feet of water as an artificial reef, the Salvage Master broke her tow cable and sank in 90 feet of water to become a favorite among Key West wreck divers. Interesting onboard features include a giant cable spool and pulley on the bow, a public pay phone on deck, and the intact rudder under the stern. The ship is also home to several Goliath Groupers and large Moray Eels along with many gamefish.
Read More
Divemaster Award This package is highly rated by divers and has been consistently rated five stars.

Divemaster Award This package is highly rated by divers and has been consistently rated five stars.

Based on our booking data from the past 30 days, this key west scuba dive is likely to sell out through Key West Scuba Diving.

Divemaster Award This package is highly rated by divers and has been consistently rated five stars.